I'm always searching for new ways to eat Oreos and anything cookies and cream-flavored. The richness of the chocolate of Oreos combined with the flavor of the cream inside is unbeatable. I got both a craving and idea recently to combine Oreos with coffee and mascarpone to create this Oreo pie. Thanks in large part to mascarpone, the filling inside this dessert is insanely smooth! But the crumbled Oreos give it a chewy, chocolatey texture that is a winning combo with the coffee. I hope you enjoy this cookies and cream pie as much as I did!
Mascarpone is Magic
I'm a little embarrassed to admit I had never really had mascarpone until the last year or so. My introduction to it came from a tiramisu recipe I altered from The Preppy Kitchen, and it called for mascarpone.
It was love at first taste; the mascarpone in tiramisu added a subtly sweet flavor and silky texture unlike anything I'd tried before. Because mascarpone is high in fat content (almost double the amount of fat you'll find in heavy cream or heavy whipping cream), it spreads so smoothly. You can read more about mascarpone and its many wonderful qualities here.
This Oreo Pie with Coffee and Mascarpone is a Tiramisu-Inspired Treat
I enjoyed that tiramisu so much so that I began brainstorming other desserts that could benefit from mascarpone. I've spent plenty of time dreaming up other sweet treats that feature this new favorite ingredient of mine. With my deep-seated love of Oreos, it didn't take long for me to reach the conclusion that I should develop a recipe that brings together Oreos and mascarpone.
I'm also a huge fan of simple desserts that are tasty but require minimal effort, and this definitely fulfills those key requirements. It came together in less than an hour. Really, the most time-consuming aspect of this pie is waiting for it to firm up a bit in the refrigerator. You'll know it's ready when its consistency is a bit thicker than that of your typical pudding. I'd wait at least four hours before cutting into it, though ideally six or longer.
Although I haven't tried it here myself, you could swap out the mascarpone with cream cheese. Cream cheese would definitely add a bit of tanginess and make the result pie denser. But it's on my list to try this with cream cheese instead, and I think it could be quite yummy. As is, I'm a huge fan of the way mascarpone makes my version here nice, thick, and creamy without it leaving you feeling overly full and heavy.
This pie is sweet… But not too sweet.
I also created this dessert for a particular gathering. The people who would be eating it enjoy sweets but not ones that are too sweet. A slice of cake with thick, sugary vanilla frosting slathered all over would not be their ideal way to end a meal. They lean toward notes of coffee and chocolate. They also have a fondness for sweets treats like custard and other cream-based desserts.
Bearing all those factors in mind, this pie with coffee and mascarpone checked off many of their boxes and was a huge hit! I'd definitely recommend this recipe if you're appealing to people with similar dessert preferences.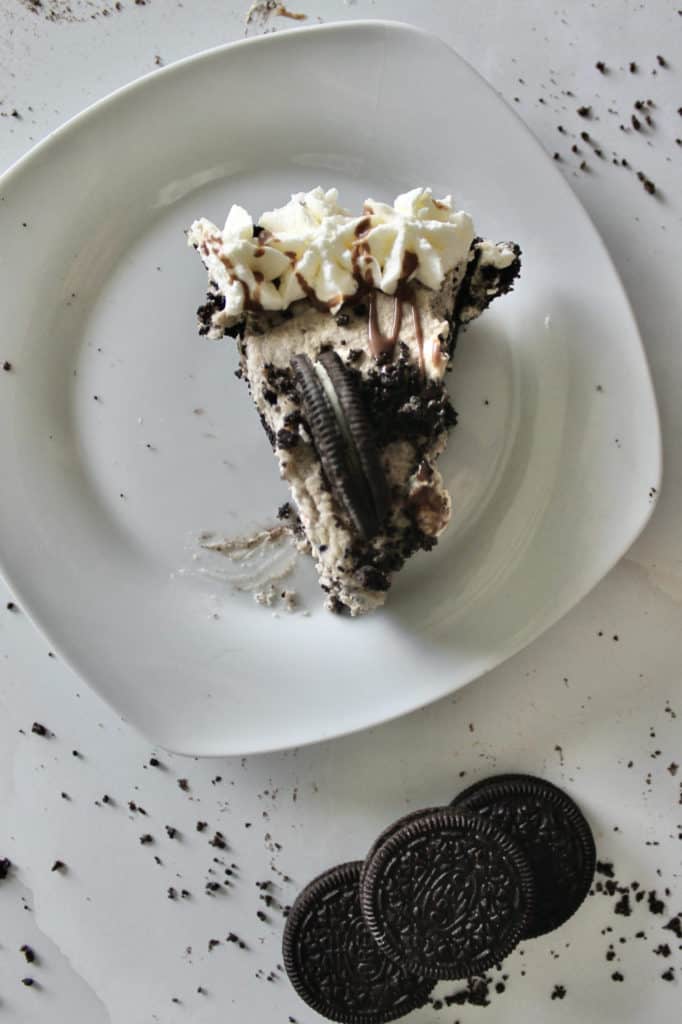 Customizing this Oreo pie with coffee and mascarpone
And speaking of taste, everyone has unique ideas of what tastes good and what doesn't. This recipe is pretty forgiving, so there are a couple of ways you can change it up to your specific liking.
I talk a bit about the difference in flavor of pure vanilla extract vs. the clear, synthetic version in this post about an Oreo cake. Either one of those would work here, though I personally used the synthetic version because its flavor is very pronounced. I wanted to emulate that vanilla cream flavor specific to the kind I know and love from the inside of an Oreo. Oreo cookies use clear vanilla extract in their own cookies so I chose that. But you can't go wrong.
More Ways to Make this Pie Your Own
Feel free to also reduce or increase the amount of sugar in your pie filling to your liking. As I mentioned, my version is subtly sweet, but you could certainly bump it up. I am trying to reduce the sugar I add to recipes, but it's ultimately your call! Taste-test small spoonfuls of your pie filling as you're whipping it in a bowl. Add sugar there before pouring it all into your pie dish.
Also, if you like a strong, intense coffee flavor, add more coffee grounds to your pie crust or dust the top of your pie with it (or espresso powder). The grounds would be more noticeable in flavor and appearance on the pie's top, so I'd use more caution when placing them there. You don't want to turn your pie into a bitter dessert either.
Additionally, you could reduce the powdered sugar by half and fold Cool Whip into your pie filling instead of making homemade whipped cream. But the homemade stuff is so easy and is one more way you can tailor this dessert to your specific taste! I have a recipe for the homemade version on my site, too.
Last, I suggest you measure the Oreo cookies you add on top with your heart and not by a particular quantity. If you love Oreos, add more! If you're not crazy about them, tone it back. And when you've decided on your Oreos there, top it off with chocolate syrup (homemade or store-bought) for added richness and deliciousness.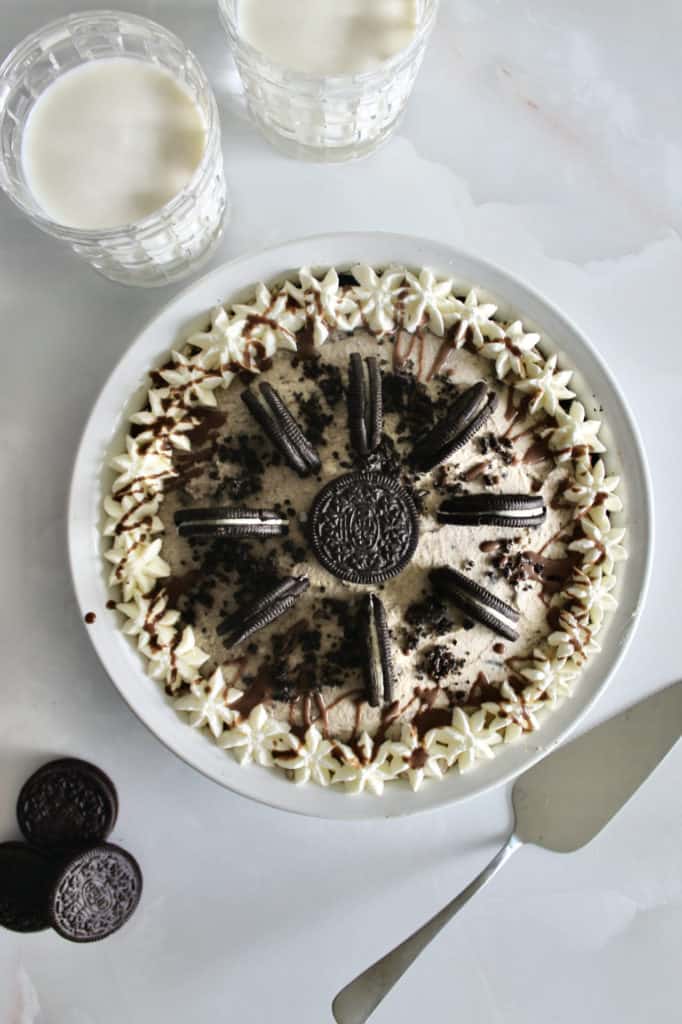 Eat and enjoy!
I hope you enjoy this Oreo cookie pie with coffee and mascarpone! Serve it with a group, and don't be surprised when your guests come back for seconds… or more!
Print
Oreo Pie with Coffee and Mascarpone
This Oreo pie featuring mascarpone and coffee is easy to make and delicious to eat. It's creamy, decadent, and full of Oreo flavor.
Author:
Prep Time:

40 minutes

Time to Chill Mixing Bowl and Whisk:

10 minutes

Cook Time:

10 minutes

Total Time:

60 minutes

Yield:

1

9-inch pie

1

x
Category:

Dessert
Crust
20 Oreos (filling included), about

227

grams

5 tbsp

butter, melted

3 tbsp

instant coffee powder
Oreo Pie Filling
3 tbsp

brewed, cold coffee; brew strong batch for deeper coffee flavor

1

cup

(226 grams) mascarpone cheese

12

crumbled Oreo cookies (

136 grams

)

1/2

cup

(60 grams) confectioner's sugar, divided

2 tsp

vanillin or clear vanilla extract
Optional for decorating
Four Oreo cookies cut in half
Store-bought or homemade chocolate syrup drizzled on top
Instructions
To make your Oreo and coffee crust: Preheat oven to 350°F.
In a food processor, coffee grinder, or blender, combine your Oreos and instant coffee powder until it has a powder-like consistency. Pour into a bowl and add melted butter. Using a spoon or your hands, mix until your crust has the look and feel of wet sand.
Spread out your crust into the base and sides of a 9-inch pie plate. I spread and flattened my pie crust with the bottom of a glass and used my fingers to press it into the sides of the plate.
Bake for 10 minutes, then let cool. You can pop it into the refrigerator or freezer to speed up the cooling process.
To make your Oreo, coffee, and mascarpone pie filling: While the crust is baking and/or cooling, pour 1 cup of heavy cream into a chilled mixing bowl. Whip the heavy cream, confectioner's sugar, and clear vanilla extract on medium high speed until it begins to thicken and form medium peaks. This will take about 3-4 minutes. Scrape out of bowl and set aside into another one before placing in the refrigerator.  
Pour coffee and mascarpone into mixing bowl. Combine on medium power for about 15 seconds, until mascarpone and coffee are incorporated. 
Once combined, add remaining confectioner's sugar and vanillin. Beat for 15 more seconds on a low speed. Scrape bowl's sides with spatula and mix for 15 more seconds. 
Using your spatula, fold in your crushed Oreos and about half of your homemade whipped cream. Whatever you don't use for the filling, you can pipe or spread onto the top for decorating. 
Remove your crust from the freezer or refrigerator (it should now be cool to the touch), and spread your mascarpone mixture into the pie dish. 
Decorate the pie with your remaining whipped topping and Oreos. I piped my frosting using a 1M tip from Wilton.
For extra flair: Cut four Oreo cookies in half and place them in a circular shape around the pie with one full Oreo in the center (see photos). Sprinkle more Oreo crumbs on top and drizzle store-bought or homemade chocolate syrup. 
Let firm up for 2-3 few hours in the refrigerator before serving. 
Keywords: pie, cookies and cream, Oreo, coffee, mascarpone