I will admit I do love Cool Whip, but I don't often have it on hand. But heavy cream and/or heavy whipping cream tend to stay in my refrigerator. I need these ingredients at the ready to make frosting for my cakes! Like homemade frosting, homemade whipped cream is so simple and only requires three ingredients! Light and creamy, its flavor and texture are irresistibly good.
While simple to create, there are a few tips I've picked up over time that are worth sharing to get your very best homemade whipped cream.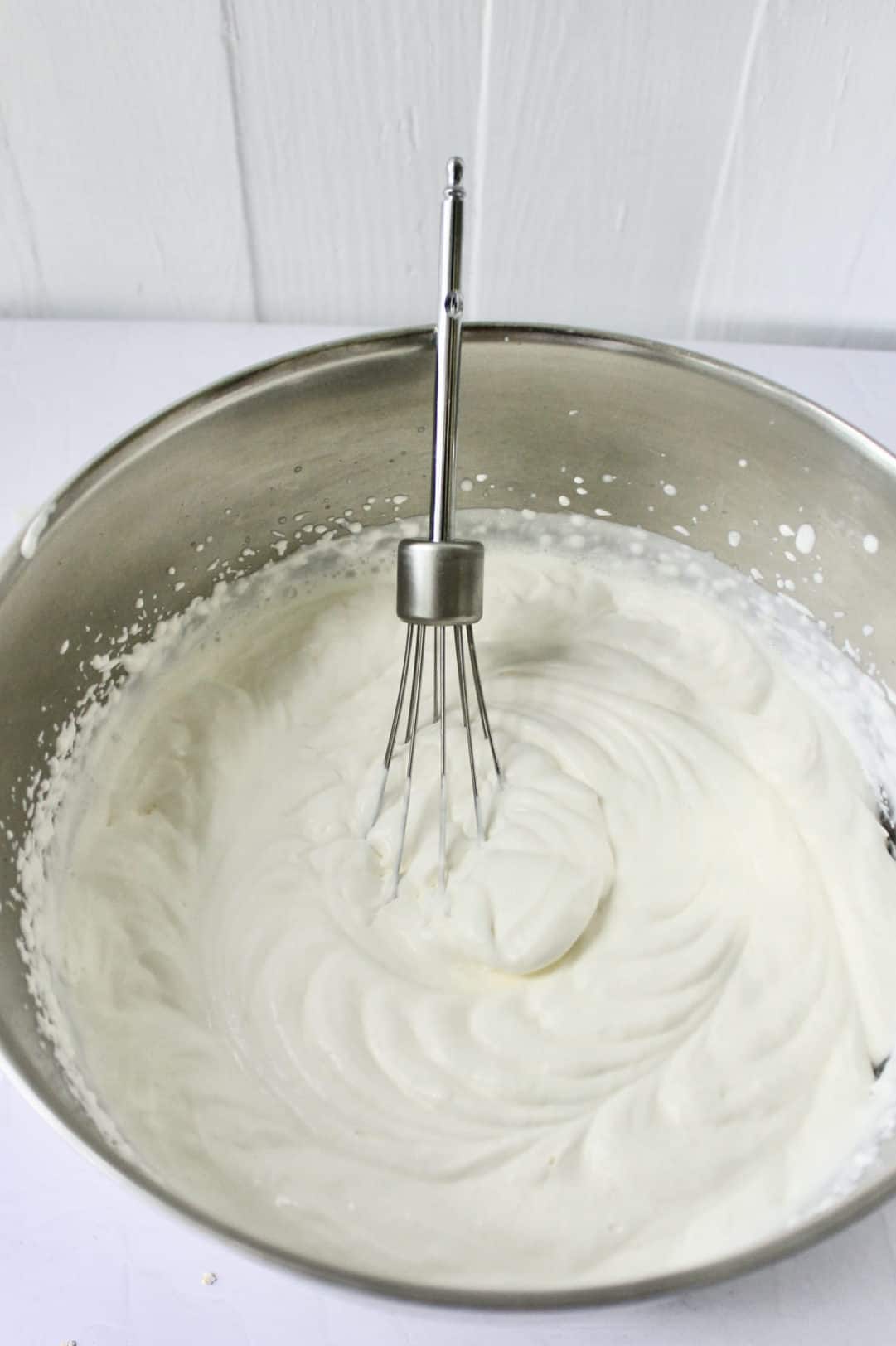 Tips for Simple Homemade Whipped Cream at Home
Use a Stand or Handheld Mixer
While it's possible to make whipped cream by hand with a whisk, I tend to make mine in a stand mixer fitted with a whisk attachment or using a hand mixer.
Chill Your Bowls and Beaters!
I have admittedly been stubborn and impatient with this step. However, chilling my bowl and whisk attachments has always paid off. The whipped cream comes together more quickly, without a grainy or unpleasant texture that I've encountered when I've bypassed this step. It's also all too easy to over-whip your cream and end up with butter. Do yourself a favor and chill the bowl and attachment(s)! You want these items to be cold to the touch.
And if your refrigerator or freezer doesn't have the space for a big bowl, you can always pour some ice cubes into your bowl. Keep them there for 20 or so minutes. Then pour out the ice cubes and wipe down the bowl before pouring your cream into it. Enjoy a cold drink of water with your leftover water and ice cubes; making desserts calls for staying hydrated!
Have Fun with Whipped Cream Flavors
Experiment with different extracts to make a uniquely flavored whipped cream. Vanilla is pretty standard, but it's fun to experiment with mint, raspberry, lemon, coconut, and whatever else your heart desires.
Don't Ditch Leftover Whipped Cream!
There are about a billion ways to use leftover whipped cream if a recipe doesn't require you to use all of it. Some of my favorite use cases include adding it atop a stack of pancakes, cup of coffee or hot chocolate, or alongside a bowl of ice cream. I'm sure you'll think of something!
Try out simple homemade whipped cream with just three ingredients. It's a game changer for topping desserts or drinks to make them just a bit more decadent! It would be delicious atop a scoop of blueberry crisp ice cream or mint chocolate ice cream, just to name a few. 🙂
Print
Homemade Whipped Cream (Only Three Ingredients!)
Homemade whipped cream is easy to make. With some heavy cream or heavy whipping cream on hand, this recipe comes together in no time.
Author:
Time to Chill Mixing Bowl and Whisk:

30

Cook Time:

5

Total Time:

35

Yield:

2 cups

1

x
1

cup

(240 grams) of heavy cream or heavy whipping cream

2 tablespoons

of confectioner's sugar

2 tsp

of vanilla extract (or extract of your choosing to create specific flavors)
Instructions
In your stand mixer's chilled bowl, pour 1 cup of cold heavy cream or whipping cream. Be sure your whisk attachment is also cold. You may instead use a hand mixer and bowl, though they should be cold as well.
Whip the cream on medium high speed until it begins to thicken and form stiff peaks. This will take about 3-4 minutes. 
Once the peaks have formed, if you're adding in flavorings, now is the time! Whip on low for an additional minute.
Notes
Be careful not to over-whip your cream, as it will develop a grainy appearance and butter-like flavor.