Whether it's mango season or you're craving the perfect summer cupcake in the dead of winter, this mango buttercream is easy to make year-round. If you make frosting often, I'll even bet you already have most or all of the seven ingredients you'll need to make this soft and fluffy buttercream. By adding freeze dried mango powder, the tropical flavor of these cupcakes is like a mini getaway. Use this recipe to top my strawberry filled cupcakes, mango cupcakes, or a unique cake or cupcake flavor of your choice – the possibilities are endless!
Ingredients for Mango Buttercream Frosting
Unlike Swiss meringue buttercream or German buttercream, this recipe does not rely on egg whites or egg yolks for texture and flavor. The recipe card below shows all the ingredients you need for this frosting, which is a simple American buttercream, typically beaten with an electric mixer. As the name implies, it uses butter and cream but mixes them with powdered sugar and extract.
Here are highlights of a few key ingredients:
Unsalted room temperature butter – Butter is a fat, and fat equals flavor! Mixing butter and powdered sugar together helps to create a nice, fluffy frosting.
Vanilla extract – Vanilla extract gives the frosting a sweet aroma and flavor. There are lots of options out there, but you don't need fancy and expensive vanilla extract for good flavor. The one at your local grocery store is great. I never taste much difference between pricier extracts and more affordable ones.
Coconut extract – Although not required, coconut extract gives this frosting a great and tropical twist. It also pairs so nicely with mango. You may add a teaspoon or two and taste test to see how much coconut and mango flavor you want in this recipe.
Freeze dried mangos – If this is your first time using freeze dried fruit, you're in for a treat. Fresh mangoes are delicious but not always in season. Meanwhile, freeze dried mangos are available year-round. They add a concentrated mango flavor to the frosting. In general, freeze dried fruits are a helpful trick in making frosting. They provide fruity flavor without introducing moisture to frosting, which can water it down or give it a soupy texture.
How to Make Mango Buttercream
In the bowl of a stand mixer fitted with the paddle attachment, or in a large bowl using a hand mixer, beat the unsalted butter, powdered sugar, vanilla and coconut extracts, salt, freeze dried mango, and heavy cream (coconut milk, whole milk, or another variety are also great options) on low speed for about 30 seconds before increasing to medium-high speed for 5 minutes.
Test taste and add a drop or two of lemon juice or lime juice to cut sweetness if desired.
To create the smoothest frosting, spend 2-3 minutes swiping your spatula throughout your bowl. Use it to press down on the frosting against the bowl's sides. This process will reduce air bubbles and create a thick but silky texture.
Set aside frosting in bowl until ready to use for topping cupcakes.
Tips for Cupcake Decorating with Freeze Dried Fruit
For best results, fully grind your freeze dried mangos before adding them to your frosting. A blender or food processor will work well.
They should have the consistency of a fine powder so that chunks of the fruit don't get caught in the tip. You won't be able to decorate the cupcake or cake easily if that happens.
If it does happen, remove or squeeze the frosting out the other end of the bag, using the wide opening, and remove the problematic pieces of fruit.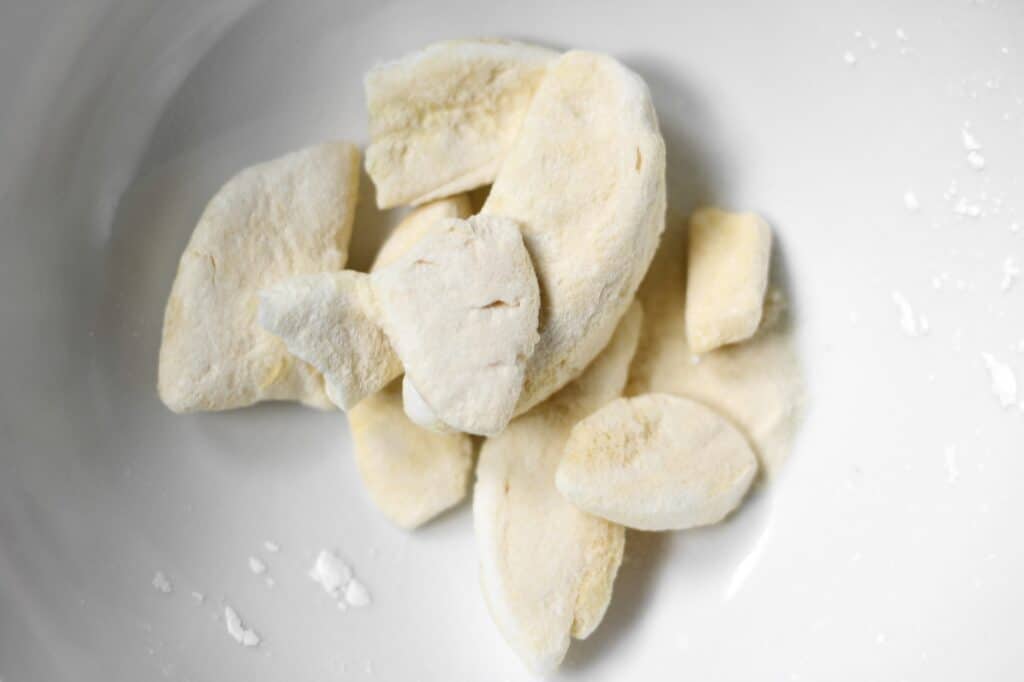 Decorating Cake and Cupcakes with Mango Frosting
This frosting recipe is a great way to top off my mango-filled vanilla cupcakes, but you can use it on other desserts too.
In making that recipe, if you have any mango puree remaining after filling the cupcakes, you can add a few tablespoons of that back into your frosting and mix it well before putting your frosting in a piping or pastry bag.
While the fresh mango puree will add some flavor, it's not necessary. The freeze dried mango gives this frosting a strong mango taste on its own.
To hide the filling, use your piping bag filled with frosting to swirl mango buttercream directly onto the top of the cupcake.
Extra Mango Flavor
If there's a mango purée or mango curd you like and have it on hand, you may also add a few tablespoons of it to your frosting before putting it into your piping bag.
A little bit of moisture won't impact the texture much, but it can increase the flavor.
That said, freeze dried mango powder is a very easy ingredient to use. If you have that, you don't really need more mango flavor, but you're welcome to add it.
Buttercream FAQ
Is cream cheese frosting different from buttercream frosting?
Buttercream frosting is traditionally made with heavy cream (or milk), powdered sugar, butter, and extract for flavoring. As you noticed, there's no cream cheese in buttercream frosting, though.

While there are many variations on cream cheese and buttercream frostings, generally, cream cheese frosting is a bit softer and less stiff in comparison to buttercream.

For an example of a cream cheese frosting, check out my carrot cake recipe. The frosting uses a combination of cream cheese and butter for a thicker frosting that still spreads easily.
How do you make frosting smooth?
There are a few tricks for smoothing out buttercream.

One trick is to melt a small amount of it (just a few tablespoons) in the microwave and add it back into your bowl. This will make it easier for you to work with it. However, doing this too much could make it runny.

Another simple trick, as mentioned above, is to use a spatula to push the frosting to the sides of the bowl after you've made it. This process reduces air bubbles in the frosting, which can make it appear torn, scraggly, or a bit rough. Using a spatula to remove them will create a silky texture. I recommend doing this for a few minutes after you've made your frosting.

Depending on when you're frosting your cake or cupcakes, you may want to wait and do this right before you plan to use the buttercream.
Can I freeze this frosting?
Yes! Store it in an airtight container in the freezer for up to four months. Thaw and then re-whip to use.
Bake Like a Pro: Use a Kitchen Scale
Weighing your ingredients and writing or following a recipe using a standard metric like grams ensures consistency. The sizes of measuring cups vary. Using them for a recipe can result in noticeable issues and differing end results for baked goods.
I highly recommend investing $30 or less in a kitchen scale.
More Dessert Recipes
If you're looking for more recipes like these easy mango buttercream, then check out my blueberry cake frosting. Or more in the mood for raspberries? This raspberry cream cheese frosting is also great on cakes and cupcakes.
Print
Mango Buttercream Recipe for Cake and Cupcakes
Use this easy mango buttercream recipe for vanilla cupcakes, a cake, or other dessert of choice! The frosting tastes like a tropical getaway.
Author:
Prep Time:

15 minutes

Total Time:

15 minutes

Yield: Frosting for

one

dozen cupcakes

1

x
Category:

Dessert

Cuisine:

American
1

stick (113 grams) unsalted butter, room temperature

4

cups

(45 grams) of powdered sugar
About

1/3

cup

(40 grams) freeze dried mango powder

1/3

cup

(85 Grams) heavy cream or coconut milk

1 1/2 tsp

vanilla extract

3/4 tsp

coconut extract
Pinch of salt
Optional: A few drops of lemon or lime juice (or white vinegar) to cut sweetness; add to your preference
Instructions
In the bowl of a stand mixer fitted with the paddle attachment, or in a large mixing bowl using a handheld mixer, beat the unsalted butter, powdered sugar, vanilla and coconut extracts, salt, freeze dried mango, and heavy cream on low for about 30 seconds before increasing speed to medium high for 5 minutes. 

 

Test taste and add a drop or two of lemon juice to cut sweetness if desired. 

 

Set aside frosting in bowl until ready to use for topping cupcakes. You'll then add it to a piping bag fitted with a tip of your choice or use a spoon or spatula to spread it onto your baked goods.