Pumpkin cakes, homemade sweet breads, and spiced cookies are just a few of the many fall desserts I love. But if I had to choose my ultimate, yet simple, fall treat, it would be a warm chai latte. Those spices hit just right for me in autumn. And seasonal cakes hold a special place in my heart and belly, too. So here comes this pumpkin chai latte cake, developed in the style of a Milk Bar cake. This beauty is full of seasonal spices, a chai crumb, Biscoff cookies, and a decadent, fluffy mascarpone frosting. And if you've never made a Milk Bar cake, you're in for a treat and a surprise – it's probably easier than you imagined. Let's get to it!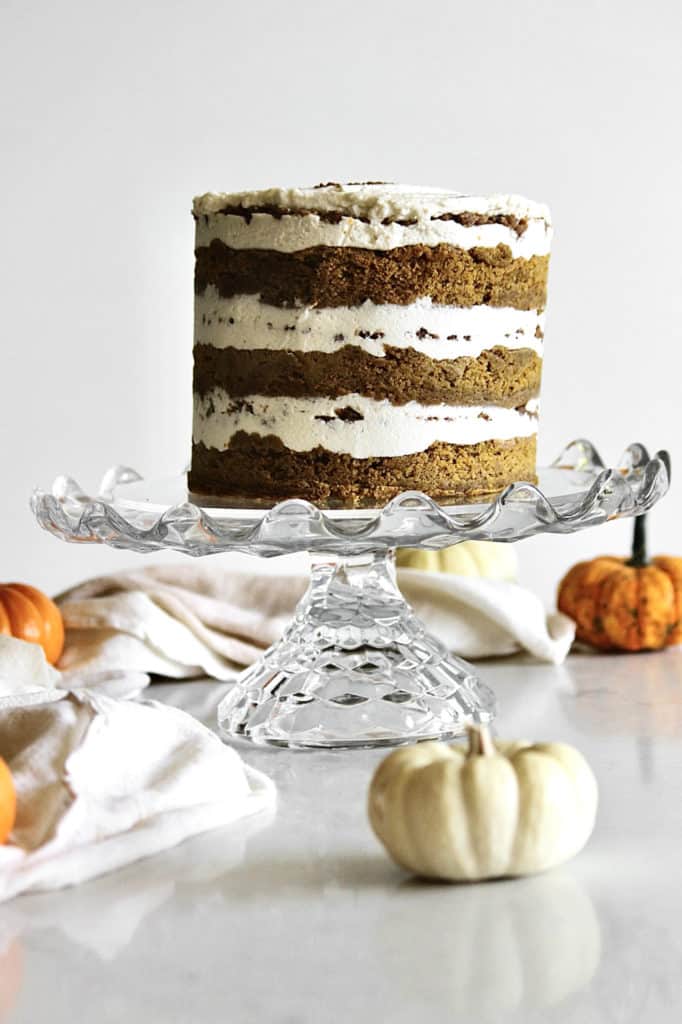 CREATING THE RECIPE FOR THIS MILK BAR-STYLE Pumpkin Chai Latte Cake
At the end of August in 2021, I was already dreaming about fall desserts. That's partly because summer was winding down, and I genuinely love autumn. But Monthly's Creative Baking class, taught by Christina Tosi of Milk Bar, definitely played a role here, too.
The homestretch of the course focused on cake, the section I had most eagerly awaited because Milk Bar cakes are as delicious as they are unique. There's often a cake sponge (the layers) and frosting so pretty typical there. But Milk Bar cakes really stand out when it comes to the crumb and cake soak. The crumb adds texture between the layers, while the soak (a liquid poured onto your cake layers) is there for more moisture.
Christina Tosi is a big fan of letting a "flavor story" guide the creative process. Memories, seasons, places, and other foods are often the sources of her dessert inspiration. Fall, chai, and pumpkin really led the way in the flavor story for this pumpkin chai cake.
Here, the pumpkin cake sponge is flavored with chai spices, which are also present in the crumb. The crumb also includes Biscoff cookies, and the soak is a few splatters of whole milk. The fluffy, whipped mascarpone frosting pairs so well with the pumpkin and spicier ingredients.
Tools you need for making this spiced fall cake
Another big differentiator with a Milk Bar cake is the pan in which it bakes. Unlike your typical layer cake, baked in separate pans, here, you will need one quarter sheet pan to hold and bake all of your batter. You'll cut three 6″ cake circles from this 9 x 13″ pan.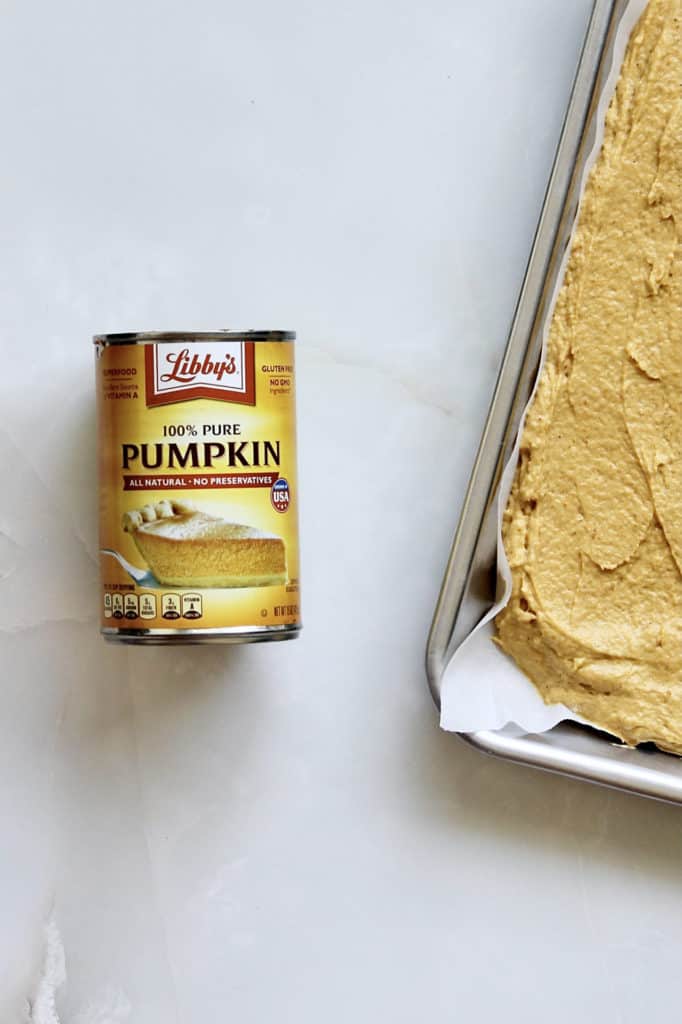 And the simplest way to get those layers is with a cake ring. I'd never used one before this class and admittedly hate buying tools I don't foresee using more than once or twice. However, the process for making a Milk Bar cake is in many ways faster than your usual process for stacking and decorating cake with frosting. So the ring is a good investment because you'll want to return to this process for making future cakes! You can find the one I ordered here. The ring will be where you stack all your cake layers, along with the chai crumb and mascarpone frosting.
I have successfully baked this cake in three 6″ cake pans, too. They baked for about 40 minutes on 325°F. If you were planning to bake them in pans, start checking your layers around the 30-minute mark with a toothpick. That said, the steps for making it are easier with the one pan and cake ring.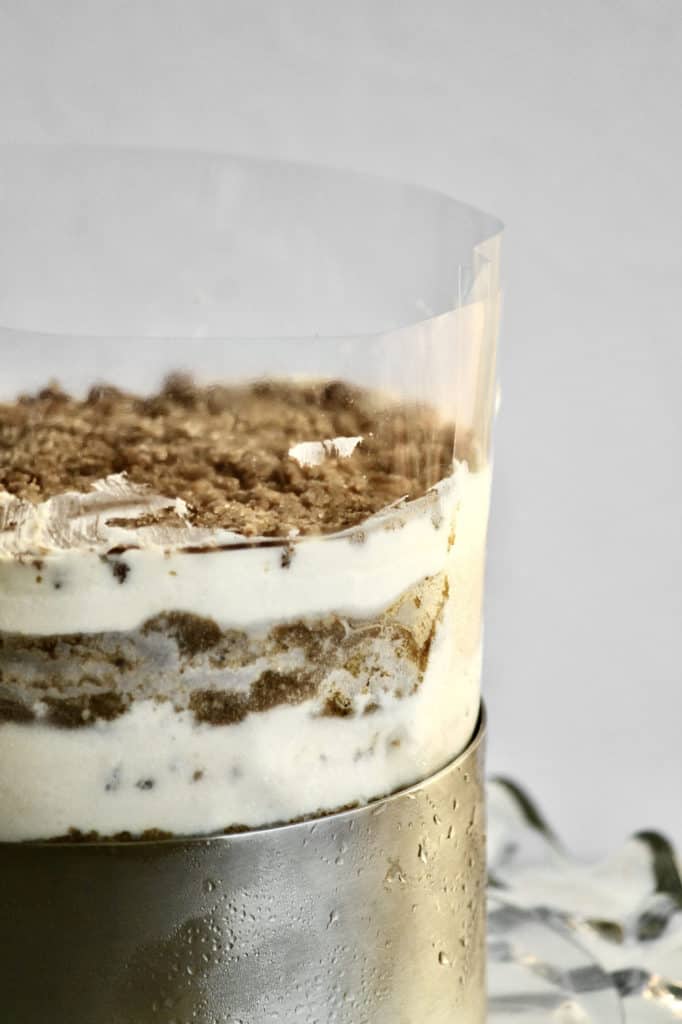 You'll also need acetate sheets to put inside the ring. It'll hold your chai cake layers in place and keep them from getting stuck to the metal (which could happen in the freezer without the acetate). You'll peel it away as a final step in the process to reveal and eat your spiced fall cake!
I also wrote and tested this pumpkin cake recipe using a stand mixer, which I highly recommend for making cakes. That said, you can probably get by with a hand mixer. You may spend more time beating your ingredients as a hand mixer lacks the powerful motor you find in a stand mixer. Steps could take you longer.
Using a Kitchen Scale is Key to Baking Cakes with Accuracy
And if you're not already, use a kitchen scale for accuracy in baking. Weighing your ingredients and writing or following a recipe using a standard metric like grams ensures consistency. You may use a set of measuring cups, but the problem there is that the ones in your kitchen could be very different from the ones in mine. Measuring cups vary widely. This can create significant differences in the end product between what each of us is baking. If you haven't already, I highly recommend investing $30 or less in a kitchen scale. I almost always write my recipes using grams and many other food bloggers do, too. If you want the same kinds of baked goods and treats you see from recipes online, this is an important step to take.
Pointers for making and assembling this pumpkin chai latte cake
The steps below are in the recipe card but highlighting a few of them here for extra emphasis:
Cream your butter and sugars very well at the start of combining your cake sponge ingredients. This yields a fluffier (read: yummier) cake sponge. And if you notice any batter and/or dry ingredients flying out of the bowl, cover your stand mixer with a dishtowel to avoid splatter. This recipe has a lot of wet batter particularly in its early steps. I have to cover my mixer to avoid a big mess!
After incorporating the batter's dry ingredients into the wet ones, I scrape the bowl's sides to ensure there are no pockets where dry ingredients have hidden. I use my mixer for about 45 seconds of combining wet and dry ingredients and do the rest by hand with a spatula for another minute or two to avoid over-mixing.
When it comes to assembling the pumpkin cake layers, you'll use the cake ring to cut out 2 rounds. These will be your top and middle layer. The two halves and remaining scraps will be the bottom layer. Don't worry about their appearance because it all comes together and looks fabulous; imperfections with the bottom layer won't show through. Just be mindful to try and make all your layers as flat and even as possible.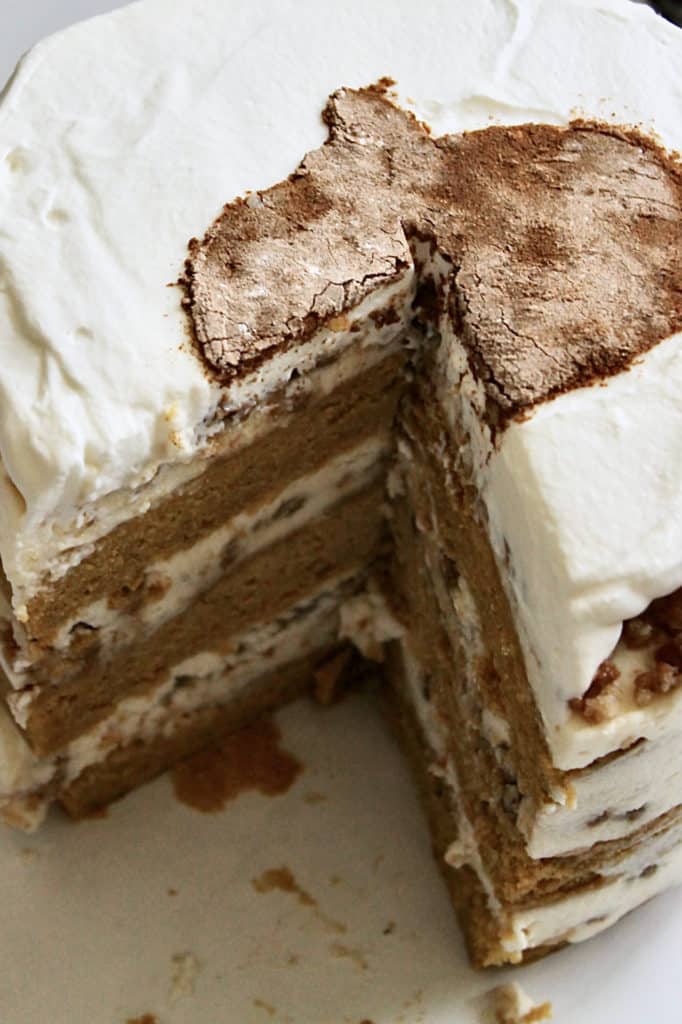 Final Pumpkin Cake Recipe Tips
When making your mascarpone frosting, you'll want the bowl of your stand mixer to be cold to the touch. You can do this by popping it in the refrigerator or freezer. Or, if you're like me and low on space in these places, put some ice cubes into the bowl to make it chilly. When you're ready to make the frosting, pour the ice into a glass with some water, hydrate yourself, then wipe down the bowl! Okay, do what you want with the water, but do be sure your bowl is cold! This will make your frosting come together more quickly and without your accidentally over-whipping it.
If you want to take a break between these steps, you absolutely can! I made my pumpkin chai latte crumb and cake layers one night and mascarpone frosting the following day. If you want to do the same, store you crumbs in the refrigerator overnight. You can also leave your cake at room temperature overnight. So long as it's covered well at room temperature, it won't dry out. I draped a cheesecloth over mine to retain moisture. You could also gently wrap it in plastic wrap and store in the refrigerator or at room temperature.
Lastly, in the recipe card, you'll find ingredients to make your own chai spice mix, but you would be fine going with a pre-made and/or store-bought mix if there's one you know and like.
Making the Pumpkin Design on this Layer Cake
It's not necessary, but the pumpkin on top is easy and cute! Before serving your pumpkin chai cake, spread Cool Whip, homemade whipped cream, or any remaining mascarpone frosting on top.
Cut out a 6" circle on waxed paper, and draw and cut out a pumpkin design within the circle. Lightly place the cutout of your pumpkin atop your cake, and dust the top of your cake with a fall spice of your choose. Carefully remove waxed paper to reveal pumpkin design.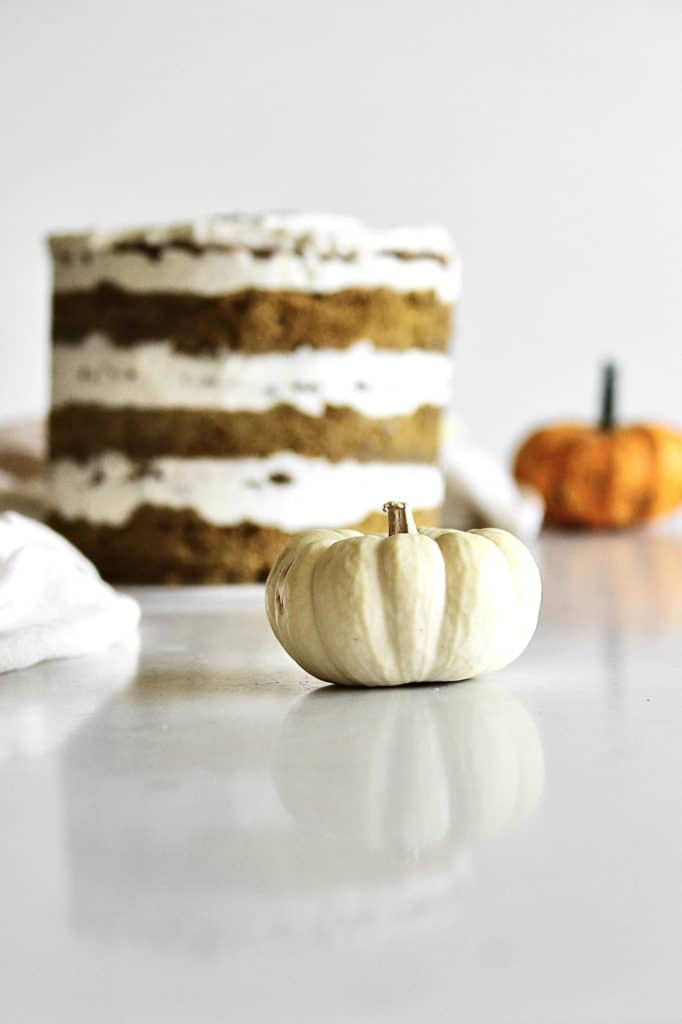 Liked this pumpkin chai latte cake? You may enjoy these other fall desserts
More in the mood for fall cookies instead of cake? Take a look at my tiramisu pumpkin spice cookies and apple dapple thumbprint cookies, the latter of which I also developed during my Milk Bar course!
Print
Pumpkin Chai Latte Cake
In the style of Milk Bar cakes, this recipe combines two of the season's coziest flavors and merges them into a delicious pumpkin chai latte cake!
Author:
Prep Time:

30 minutes

Cook Time:

2 hours

Total Time:

2 and 1/2 half hours, plus time in the fridge or freezer for the cake to firm up

Yield: One

6

-inch, 3-layer cake

1

x
Category:

Dessert
Pumpkin Chai Latte Cake Spice Mix
4 tsp

(8 g) ground cinnamon

1

tsp (2 g) ground cardamom

3/4 tsp

(

1 g

) ground ginger

1/2 tsp

(

1.5 g

) ground nutmeg

1/2 tsp

(

1 g

) ground cloves

1/2 tsp

(

1 g

) allspice
OR use 2.5 tablespoons of your favorite pre-made chai spice mix*
Pumpkin Chai Latte Cake Sponge
About

6 tablespoons

(

85 g

) unsalted butter at room temperature

1/2

cup

(125 g) granulated sugar

1/3

cup

(50 g) light brown sugar

1

egg

1/3

cup

+

2

tbsp

(110 g) buttermilk, room temperature

4 tsp

(

20 g

) grapeseed oil (or other colorless, odorless oil like vegetable or canola)

2 tbsp

(

10 g

) homemade chai spice mix

2 tsp

(

8 g

) vanilla extract
About half (225 g) of one 16 oz. can pureed pumpkin (I use Libby's)

1

and 2/3

cup

(225 g)

all-purpose flour

3/4 tsp

(

3 g

) baking powder

1/2 tsp

(

3 g

) baking soda

1/2 tsp

(

2 g

) kosher salt
Optional (but highly recommended) milk soak – About 4 tbsp (57 grams) of milk to drizzle on your bottom two layers while you stack your cake*
Pumpkin Chai Latte Cake Crumb
1/3

cup

(75 g) granulated sugar

2 tbsp

(

20 g

) lightly packed light brown sugar

1/2

cup

(75 g) all-purpose flour

5

Biscoff cookies (

40 g

), crumbled

1/2 tsp

(

2 g

) baking powder

1/4 tsp

(

1 g

) kosher salt

4 tbsp

(

50 g

) canola oil (or other clear, odorless oil like vegetable or grapeseed)

1 tsp

(

4 g

) vanilla extract
About

2 tsp

(

3.5 grams

) of your chai spice mix
Pumpkin Chai Latte Cake's Mascarpone Frosting 
1

8

–

ounce

container (226 g) mascarpone, chilled

1

cup

(215 g) heavy cream, chilled

3/4

cup

(105 g) powdered sugar

1 tbsp

(

12g

) vanilla extract
Optional: 1 tsp (4g) maple extract (Highly recommend, as it adds a lovely smell and hint of maple flavor!)
Optional topping at the end for Pumpkin Chai Latte Cake
Leftover mascarpone frosting OR 1/3 cup of Cool Whip OR 1/2 cup of heavy cream and 1 Tbsp powdered sugar

1

–

2

Tbsp of pumpkin pie spice, chai spice mix, cinnamon, nutmeg, or a fall spice of your choosing

6

" round of waxed paper, cut with a pumpkin in the middle
Instructions
Pumpkin chai cake crumb
If not using a pre-made chai mix, combine all ingredients together for your homemade chai mix in a mug or small bowl.

 

 Start making your crumb by preheating the oven temperature to 300°F and lining a quarter sheet pan or baking sheet with parchment paper.
In your mixing bowl with the paddle attachment, mix all of the dry ingredients for the crumb (sugars, flour, baking powder, crumbled Biscoff cookies, salt, and chai mix) on low speed until combined. Combine oil and vanilla in a medium container or bowl and stream them into the mixer while paddling on low.

 

Mix until you see small clusters of your ingredients forming, and use your hands to clump the mixture together and spread out on your baking sheet.
Bake crumb for about 20 minutes, or until light golden brown. Let cool completely. 
Pumpkin chai cake sponge
Increase the oven's heat to 325°F, and line a quarter sheet pan with parchment paper on all sides. Butter and flour well or coat it with baking spray before setting aside.
To a large mixing bowl, add and whisk together the following dry cake ingredients: all-purpose flour, baking powder, baking soda, kosher salt, and 2 tbsp of your chai spice mix. Set aside.

 

Using the paddle attachment in the bowl of a stand mixer, cream your butter and sugars together on medium-high for 2-3 minutes. Stop mixer and scrape down the sides of the bowl. Add the egg and canned pumpkin, and mix on medium-high again for 2-3 minutes. You may need to cover your stand mixer with a towel to avoid splatter.   
Combine your buttermilk, oil, and vanilla extract together in a measuring cup or small container. Reduce the mixer to low and slowly drizzle that into the bowl. Once all ingredients are incorporated, increase the mixer's speed to medium-high and beat for 5-6 minutes, until mixture is completely homogeneous with no streaks in the batter. 
Incorporate dry ingredients into wet for about 45 seconds with your mixer. Continue incorporating by hand with a spatula until well-combined. Scrape the bowl's sides to ensure no dry ingredients are hiding in pockets. 
Pour and evenly spread the batter into your prepared quarter sheet pan. Bake for 25-30 minutes, rotating halfway through baking. You'll know your cake is done around the 25-minute mark when it appears buttery and dense but bounces back at the touch of your finger.
Transfer to a wire rack to cool completely. 
Mascarpone frosting
Chill your stand mixer's bowl for at least 15 minutes, then, using a whisk attachment, whip your mascarpone on medium speed for

 

about 1 minute.

 

Stop mixer to add your powdered sugar and extracts to the bowl. Return your mixer to a low speed and slowly pour in your heavy cream. Once powders and extracts are incorporated, bump up your mixer to medium high speed and continue whipping until all ingredients are combined, about one more minute. Closely watch bowl to avoid over-mixing, as it will cause the frosting to develop lumps and curdle.
Transfer frosting to a piping bag fit with a large round tip.
Cake Assembly
Use your metal 6-inch cake ring to stamp out two circles from the cake and two smaller half circles. The half-circles will form the bottom layer. 
Build your cake on a cake circle OR clean piece of parchment on a baking pan that will fit in your freezer.
Line the ring with one 5-6" tall acetate strip. Place cake scraps inside ring and use the back of your hand to press them into a flat, even layer. 
If using the milk soak, drizzle half of it onto the bottom layer of your cake, which will quickly absorb it.
Pipe roughly ¼ of your frosting on top of the bottom layer and sprinkle about 1/3 of your chai crumb. Again use your hands to gently press the crumb into the frosting so it sticks to it. Add another coat of frosting on top to hold the crumb in place.
Repeat steps with next two layers of cake, except skipping the milk soak for the top layer. To create the pumpkin stencil, reserve some frosting for a thin layer for the cake's top. 
Place cake in freezer for a minimum of 3 hours to set the cake and filling.

 

At least 3 hours ahead of serving the cake, pull it from the freezer and slide off the cake ring. Gently remove acetate and transfer cake to platter or cake stand. Let fully thaw, then serve!
Optional pumpkin stencil:
Spread Cool Whip, remaining mascarpone frosting, OR homemade whipped cream on top of your cake.

 

Cut out a 6" circle on waxed paper, and draw and cut out a pumpkin design within the circle. Place the cutout of your pumpkin atop your cake, and lightly dust the top of your cake with the spice. Remove waxed paper to reveal pumpkin design.
Keywords: pumpkin cake, dessert, fall cake