This Biscoff buttercream is delightful in my Biscoff butter cookie sandwiches and also on this Lotus Biscoff cake recipe. Cookie butter frosting is particularly easy to make and is a delicious buttercream to add to your recipe collection.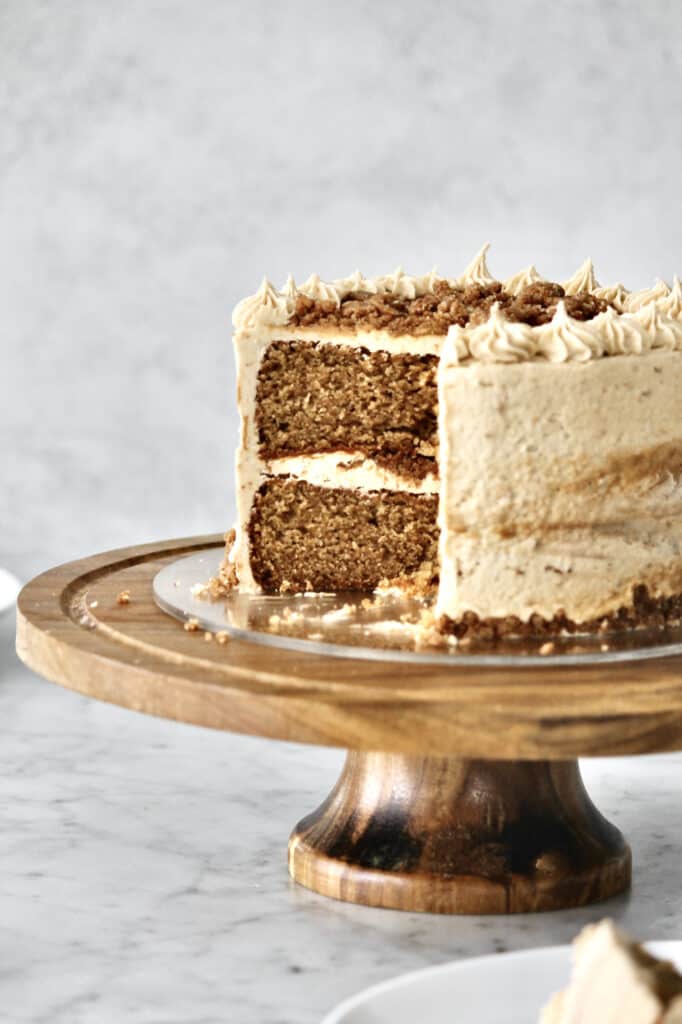 Ingredients for Biscoff Buttercream
This frosting includes both Biscoff spread and crumbled Lotus Biscoff cookies to amp up the cozy spice flavor.
Biscoff Buttercream
Unsalted butter, room temperature
Powdered sugar
Lotus Biscoff spread
Vanilla extract
Milk or heavy cream
Kosher salt (use half as much for table salt)
A few Lotus Biscoff cookies, very finely crumbled with a food processor or placing them in a sealed Ziploc with a rolling pin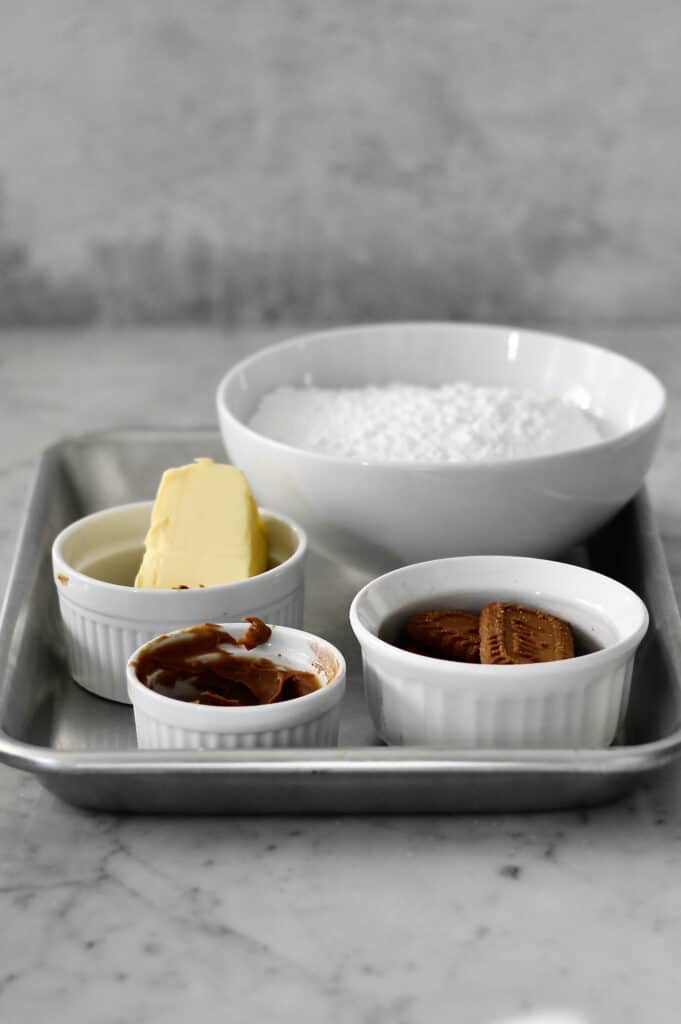 Why You'll Love this Recipe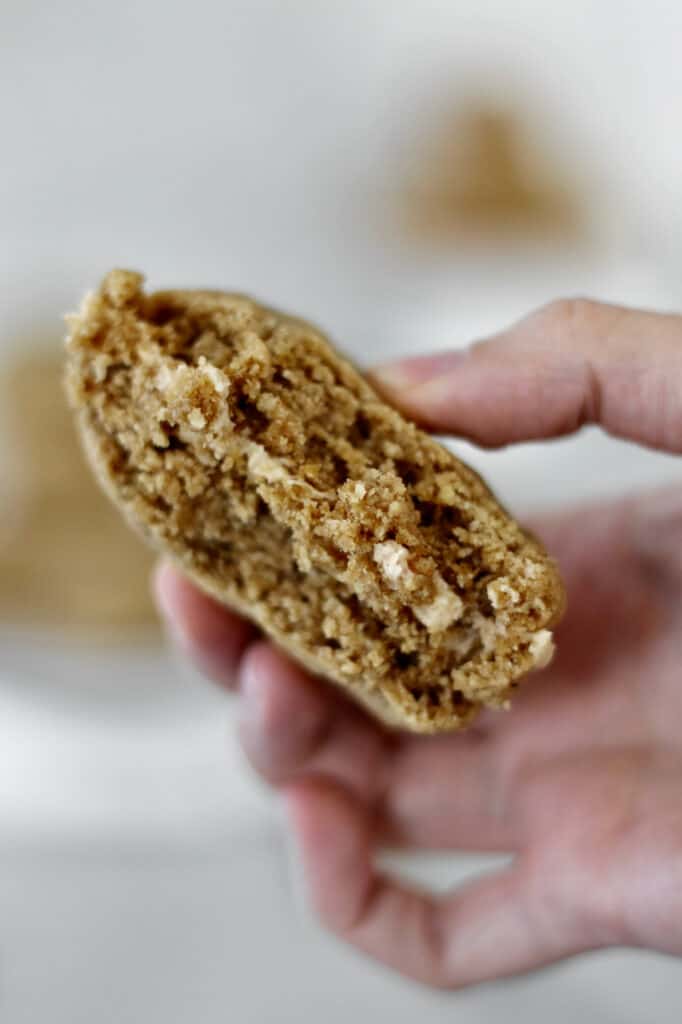 Creamy cookie butter: Biscoff cookie butter is such a fabulous spread to use in baking. Here, it provides texture, structure, and spiced flavor to a delicious frosting.
Easy to make: In addition to having great flavor, this recipe is a quick one to literally whip up.
Biscoff cookie crumbs: We are crumbling up Biscoff cookies and adding them into the buttercream! They add a nice appearance to the frosting as well as more cookie butter flavor.
Steps for Making this Recipe
With a hand mixer or paddle attachment and stand mixer, beat room temperature butter with vanilla extract, kosher salt, and Lotus Biscoff spread on medium-high speed for 3 minutes.
Stop your mixer and pour all of your finely crumbled Biscoff cookies and about half of your powdered sugar and half of your heavy cream into your bowl. Next, beat on a low speed to slowly incorporate all ingredients. Repeat this process, stopping the mixer in between adding the remaining powdered sugar and heavy cream. Then mix until totally combined.
Tips for the Best Biscoff Buttercream
Want super smooth frosting? Once your stand mixer has done the hard work, spend a few more minutes with a spatula and your mixing bowl. Use the spatula to pop air bubbles in the frosting. To do this, push frosting with a spatula from the middle of your bowl to its edges, watching as the tears and bubbles in your buttercream disappear. Spend 3-4 minutes doing these motions to achieve nice, smooth frosting.
Buttercream too sweet? Add a few dashes of lemon juice, lime juice, or distilled white vinegar. It cuts the sweetness, so taste test until it's your desired flavor.
If you need to thin out this frosting, add a few splashes of heavy cream or milk. If you need to make a thicker frosting, add about 1/4 cup of powdered sugar at a time. Mix until you've reached your desired consistency.
If you're not already, use a kitchen scale for accuracy in baking. Weighing your ingredients and writing or following a recipe using a standard metric like grams ensures consistency. I highly recommend investing $30 or less in a kitchen scale.
Biscoff Cookie Butter FAQ
What flavor is Biscoff cookie butter?
Biscoff cookie butter is made of a paste from Biscoff cookies, which have a caramelized flavor from natural ingredients. It has a spiced flavor, thanks to cinnamon.
Is Biscoff spread the same as Biscoff cookie butter?
Yes! And you can use Biscoff cookie butter in the same way that you'd use a spread like peanut butter or Nutella. It's a great breakfast spread for foods like toast, pancakes, and or a bowl of oatmeal. Enjoy it as a snack alongside pretzels and crackers.
Is Biscoff cookie butter healthy?
Given that another name for this spread is "cookie butter," I wouldn't call it healthy! And unlike peanut butter, Biscoff spread doesn't have much in the way of nutrients. But all things in moderation, you know.
What is in Biscoff butter?
It's a spread made of Biscoff cookies, brown sugar syrup, leavening agents, salt, cinnamon, canola oil, and sugar, to name the main ingredients. It's also vegan friendly. Additionally, you won't find artificial colors, flavors, or preservatives in this spread.

Can you color Biscoff buttercream?
Yes. However, keep in mind that because it's a tan color, that'll impact your ability to dye it. If you wanted to turn it red, for instance, expect your red to be a bit muted, thanks to the brown-ish color from the frosting. I wouldn't try to dye this frosting a light color like yellow.

Can you freeze Biscoff buttercream?
Buttercream freezes well. Store it in an airtight container in your freezer for up to three months. Before using it, remove it from the freezer at least 12 hours in advance. Rewhip it by hand or by adding it back to your mixing bowl to help revive the consistency. This makes it easier to spread.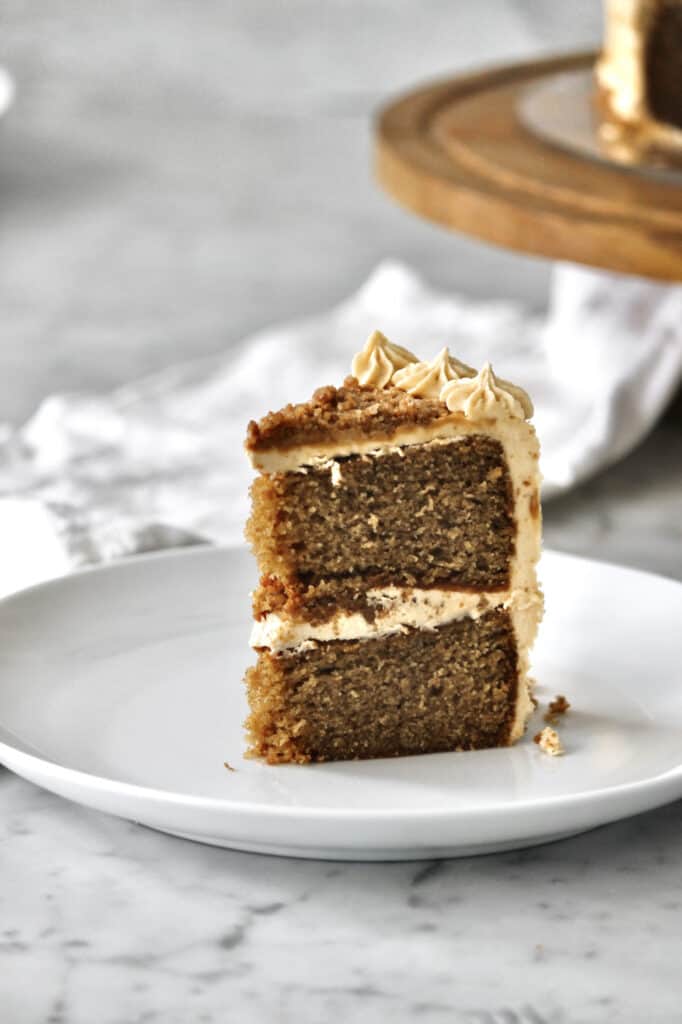 More Recipes
If you need more frosting ideas, check out my black buttercream recipe! It's silky smooth and tastes like an Oreo cookie.
Print
Biscoff Buttercream
I use this Biscoff buttercream frosting in cookie butter sandwiches and on cake, too. It's full of cozy flavors and very easy to make.
Author:
Prep Time:

20 minutes

Total Time:

20 minutes

Yield:

1

batch

1

x
Category:

Dessert

Cuisine:

American
1

and a half sticks (

170 grams

) of unsalted butter, room temperature

3

cups (375 grams) of powdered sugar

1/3

cup

(75 grams) Lotus Biscoff spread

1 tsp

vanilla extract

1/3

cup

(60 grams) milk or heavy cream

1/2 tsp

kosher salt (use

1/4 tsp

for table salt)

3

Lotus Biscoff cookies, very finely crumbled (using a food processor or placing them in a sealed Ziploc with a rolling pin)

Optional: 1/2 tsp of lemon or lime juice (or more to taste) to cut sweetness
Instructions
In the bowl of your stand mixer, combine your unsalted butter, powdered sugar, vanilla extract, heavy cream, salt, crumbled Lotus cookies and Biscoff spread.

 

Start mixer on a low setting to avoid powdered sugar from flying everywhere. Then increase speed and beat for another 3-4 minutes. 

 

Fit a piping bag with a large round tip over the rim of a glass to scoop and transfer frosting into it to use on cake, cupcakes, cookies, and more.
Notes
This recipe will fully cover a 6-inch, 2-layer cake and likely leave you with some leftover frosting.
Keywords: Frosting, buttercream, Biscoff