An old family recipe for an apple dapple cake was the inspiration behind this cookie. My grandmother on my mom's side, Mimi, the baker of that cake, was one of my favorite people. Although she died in 2018, I love that she lives on through memories and recipes. Now, this cookie recipe based on one of her cakes is just another way to remember her in a sweet way. These homemade apple dapple thumbprint cookies feel like a hug from her to me, and I hope it brings you warm and cozy vibes, too.
Developing the Recipe for these Apple Dapple Thumbprint Cookies
I developed this recipe during my virtual Monthly class, taught by Christina Tosi of Milk Bar. I very much enjoyed following Christina Tosi's process for creating desserts. In the course, she emphasizes creating your own "flavor stories." Memories, seasons, places, and other foods can be the source of your inspiration. Those ideas will lead you to make the desserts you'll enjoy the most. You'll be most passionate about creating them because of your deep connections and associations with them. The whole class felt like a walk down memory lane in a really lovely way. I definitely recommend it to others wanting to improve their baking confidence. You'll make some delicious treats along the way, too!
The course also reinforced in me the need to use a kitchen scale for accuracy in baking. Weighing your ingredients and writing or following a recipe using a standard metric like grams ensures consistency. You may use a set of measuring cups, but the problem there is that the ones in your kitchen could be very different from the ones in mine. This can create significant differences in the end results between what each of us is baking. If you haven't already, I highly recommend investing $30 or less in a kitchen scale. I almost always write my recipes using grams and many other food bloggers do, too. If you want the same kinds of baked goods you see from recipes online, this is an important step to take.
My love for baking has intensified over the past few years, mainly since my grandmother passed away. I so wish I could share my creations with her. While I can't physically do that, I knew I wanted to make a dessert in Mimi's honor. Hence this little cookie, which conjures up feelings of comfort and joy for me. Isn't it funny how taste can do that? Flavor is so closely tied to some of our memories, which is both wild and very cool. I know Mimi would have loved to see what I'm making, so developing this recipe made me feel more connected to her.
The Apple Dapple Cake Behind this Thumbprint Cookie
You can see a photo here of the cake that inspired my homemade apple dapple thumbprint cookie recipe. It's a warming, cozy cake. What's less apparent from the cake's exterior is that it's full of apples and pecans that pack a punch of flavor. As Christina Tosi would say, those are a few of the big "flavor moments" at play here, so I wanted to focus on them in my cookie. The brown sugar glaze on top is also a key feature of Mimi's apple dapple cake.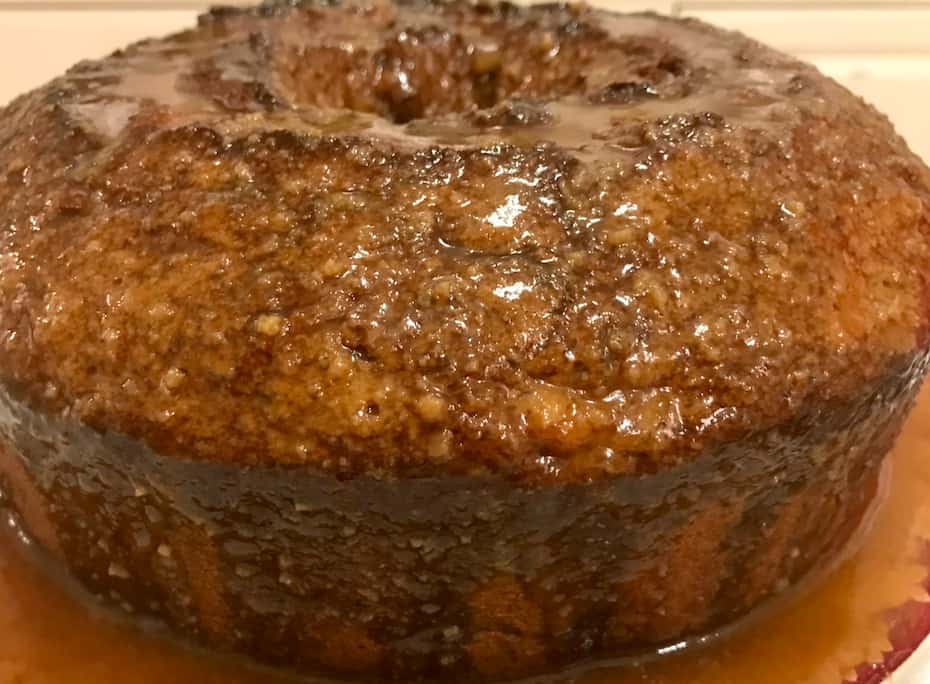 Also worth noting is that I baked these cookies at the end of summer. With autumn around the corner, I wanted to create a cookie recipe in line with the season. When I think of fall, I think of spiced drinks, apple picking, family time, and meals around the table at Thanksgiving or Christmas. All of this called to mind Mimi's apple dapple cake. Family time and visits with her are some of my strongest fall memories, so this cookie has a lot of sentimental meaning for me. That made this cookie and the process for creating it that much sweeter!
An Inside Look at this Cookie
This cookie embodies the spirit of the original apple dapple cake, thanks in large part to candied pecans, apple jam, and freeze-dried apples. The candied pecans add sweetness and texture. Chopped apples didn't feel quite right for this cookie so I kept tinkering. I was surprised to find that the freeze dried apples actually give the insides of this cookie added flavor as well as chewiness when baked. And the little thumbprint with jam on top is pretty cute but also yummy. I love so many fall treats, but sometimes apple can be overlooked. This is the perfect cookie to add to your fall lineup of desserts.
The taste of browned butter is also one that I couldn't resist including. It adds a nutty aroma and flavor that work well with the other ingredients at play here. If you've never browned butter before, closely watch your pot. On medium-high heat over a burner, your butter should brown in about eight minutes. You'll know you've succeeded once you see brown flecks in your butter, which will overall become more amber in color. I also suggest using a pan or pot that has a clear or light-colored bottom. Otherwise, it's trickier to notice the subtle changes in your butter's color, and you don't want black, burned butter!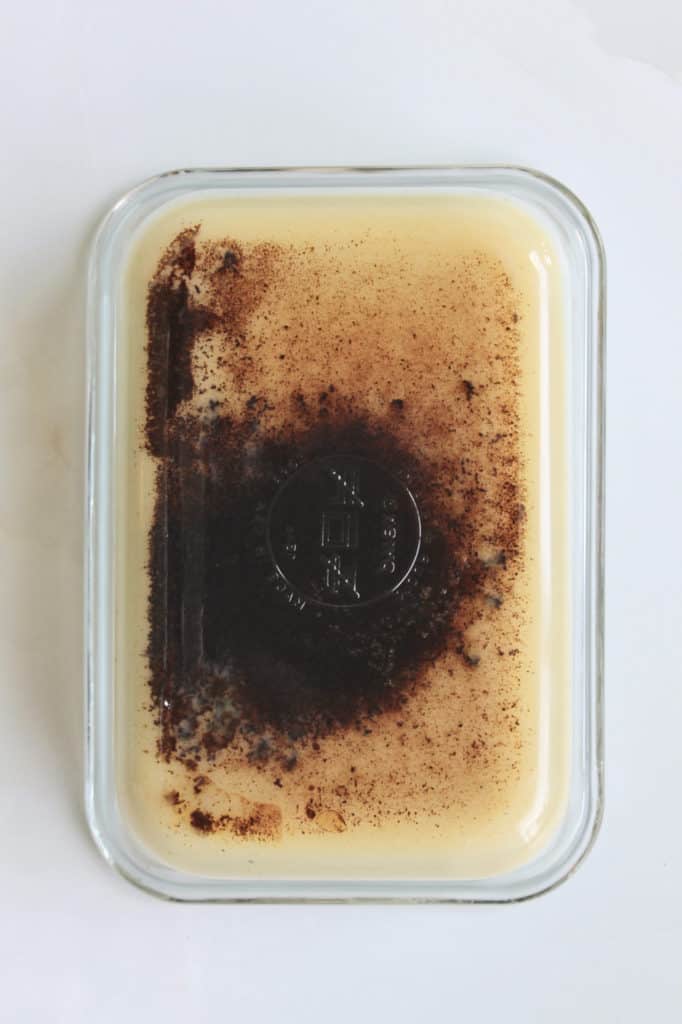 And while I initially considered adding a lot of cinnamon and nutmeg, those spices aren't found in my grandmother's cake recipe. I wanted to be true to that so kept cinnamon to a minimum. That said, you could certainly add more to your dough than I did.
Long story short, I could consume these apple dapple thumbprint cookies by the handful!
Check out the other desserts on my blog for more sweet recipes!
Print
Apple Dapple Thumbprint Cookies
A cake recipe from my grandmother inspired these cookies. Packed with flavor from apples, candied pecans, and brown butter, these apple dapple thumbprint cookies are like a hug in the form of a cozy dessert. 
Author:
Prep Time:

15 minutes

Chilling in the Refrigerator:

90 minutes (butter and dough)

Cook Time:

13 minutes

Total Time:

About 2 and a half hours

Yield:

12

cookies

1

x
Ingredients for the Candied Pecans
14 g

(1 tbsp) unsalted butter

130 g

(about

1

and 1/4 cup) pecans

30 g

(2 tbsp) water

48 g

(4 tbsp) brown sugar

Pinch of kosher salt

Optional: Pinch of cinnamon
Ingredients for the Dough
225 g

(2 sticks) unsalted butter

200 g

(1 cup) granulated sugar

200 g

(1 cup) light brown sugar

1

egg

2 g

(1/2 tsp) vanilla extract

130 g

(about

1 cup

) all-purpose flour, spooned and level

130 g

(about

1

and 1/4 cup) pecans, ground into a sandy texture using a blender or food processor

2 g

(1/2 tsp) baking powder

1.5 g

(1/4 tsp) baking soda

5 g

(1 and 1/2 tsp) kosher salt

50 g

(1 and 1/3 cup) freeze dried apples, chopped into small bits
About

60 g

apple jam (approximately 2-3 tablespoons, depending on the size of your thumbprint!)
Instructions
Browning your butter
Brown your stick of butter over medium-high heat, which will take around 8 minutes. Monitor closely and stir often to ensure your butter isn't burning. You'll know it's nearly done after it's bubbly and foamy and has begun turning golden brown. Once it smells nutty and becomes amber in color, remove it from the heat source.

 

Pour your browned butter into a heat-resistant, sealed container and place it in the refrigerator or freezer to expedite the cooling process. When you next use it, you'll want it to be solid. It should take 30-45 minutes in your freezer and about twice as long in your refrigerator.
Candying Your Pecans
Rinse out the pot you used to brown your butter and melt 1 tablespoon of butter in a pot over medium-high heat. Once melted, after about two minutes, toss your chopped pecans into the melted butter and stir until butter coats all your nut pieces.
Next, add two tablespoons of water and four tablespoons of brown sugar to your pot, along with a pinch of kosher salt. Stir until the mixture thickens and coats your pecan pieces. Add a dash of cinnamon if desired and remove from pot.
To cool, set aside nuts on a tray lined with parchment paper while prepping your dough.
Making Your Dough
Once your brown butter has firmed up, place it and both of your sugars in the bowl of your stand mixer. Cream together on medium-high speed for 2-3 minutes.
Scrape down the sides of the bowl as well as your paddle and add your egg and vanilla. Beat on high for 7-8 minutes. Monitor your bowl and scrape sides as needed to ensure all ingredients combine.
Measure your flour, baking powder, baking soda, ground pecans, and salt together and mix them with a fork in a separate container.
Add to your stand mixer bowl all the ingredients from the previous step, and set mixer speed to low. Mix just until the ingredients are evenly distributed, right around 15 seconds. Scrape down the sides of the bowl with a spatula.
Toss your candied pecans and freeze dried apple pieces into your bowl. Mix them into your dough using a spatula. Mixing this way results in a chewier cookie and prevents gluten from forming.
Prepare your baking pans with parchment paper or a silpat mat.
Using an ice cream scoop, place golf-ball sized scoops of dough onto your lined baking pans. Take your thumbprint and make an indent on top of them. Let them chill in your refrigerator for at least one hour or place in the freezer for 15 minutes.
Baking your cookies
About 10 minutes before you plan to bake your cookies, preheat your oven to 375 degrees Fahrenheit.
Once the dough balls have firmed up, bring them out of your refrigerator or freezer. Take approximately 1/4 tsp of apple jam and place it in the thumbprint atop your cookies. It doesn't spread much so you can add a little more if desired.
Once your oven is preheated, bake your cookies for 13 mins. Let them rest and firm up on your baking sheet for about three minutes after exiting the oven before transferring them to a cooling rack.
Eat and enjoy!
Keywords: cookies, fall desserts, apple desserts